Sneeze Guard & Transparent Partitions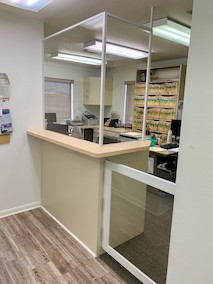 Concerned about the spread of germs? Want to protect your employees and customers from sharing the flu and other viruses? Would you like a permanently installed sneeze guard?
In order to stop the spread of the virus during the COVID-19 pandemic, the CDC recommended that schools and certain businesses install plexiglass dividers.
But if you're not sure where to purchase these hard plastic sheets or how to install them, the Screen Doctor is here at your service. Since we are sunroom contractors, a portion of our daily routine deals with acrylics, vinyl, polycarbonates, and glass sliders. So we are used to working with these types of materials on a regular basis.
Sneeze guard installation in Fort Myers, Cape Coral, Bonita Springs, & Naples
School administrators, store managers, and health care workers can greatly benefit from our services. However, these transparent partitions help prevent the spread of airborne influenza particles in any setting. Recently a dentist on Del Prado Blvd in Cape Coral hired the Screen Doctor to install permanent sneeze guards in his office. Here are some before and after photos.
Life happens. Living life every day wearing a mask may not be practical for some. But installing sneeze guards is an improvement that can yield big benefits for those who are concerned about their health and the health of others.
Contact us or call 239-482-7502 today for your FREE estimate!
Serving Southwest Florida: Fort Myers, Cape Coral, Bonita Springs, Estero, Sanibel, Pine Island, Lee, and Collier County.
"The bitterness of poor quality remains long after the sweetness of a cheap price."