Doors and Entrance Areas
Wouldn't it be great to have a refreshing cross-breeze through your home? How would you like to have a secure, attractive front entry-way? Then check out these options.
Let me guess. You're here today because of one of the following problems:
Feeling closed in
Rattling screen door
Door drags on bottom
Handle set broken again
Salt corrosion on old door
Sagging / twisted screen door
Flaking / blistering paint peeling
Bees / Wasp nests up at light fixture
Bugs in front entry are attracted to light
Worried about security of your loved ones
Abused from kids and pets to doors / screens
Not seeing enough light at the front of your home
Your front entry door slams shut or doesn't shut tight
If so, there is hope! The Screen Doctor offers free estimates (virtually or onsite) to help you create the perfect design. We take into consideration the architectural design of your home. 
We use our PCA design visualizer to create a drawing of what your new entryway and custom screen door will look like. There are endless possibilities to choose from. Our goal is to find the perfect design that fits your style and functionality.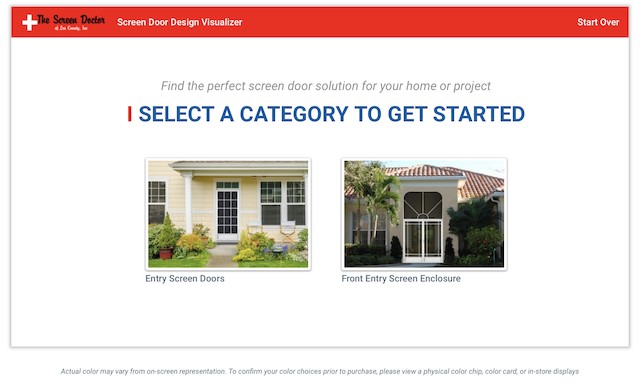 Screen Doctor custom measures all entries and doors to make sure you have a prefect fit and install. Each door is handcrafted, hand painted and personally assembled for your opening. Our skilled installers have over 15 years of experience installing custom entry ways.
Screen Enclosures - Fort Myers, Cape Coral, Bonita Springs
Our custom screen doors and entry ways are built to last. Our PCA screen doors will be the last screen door you will ever buy! Imagine the beautiful SW FL breeze of fresh air circulating through your home. You will add to your curb appeal and beautify your home while keeping your family and pets safe inside.
When considering the design for your entry we suggest door styles that match the architectural design of your home. Whether it is the window style, your golf clubs in the garage, or your love for FL wildlife, we can suggest the Golfer or Heron figurine. 
We may suggest adding kick plate coil panels along the bottom to minimize dirt and debris to keep that entry clean or upgrading to SuperScreen No-See-Um to protect your pets from escaping or those pesky No-See-Ums from biting your family. We pay attention to your unique situation for design and functionality.
Custom Screened Entries
Screen Doctor custom measures your entries and doors to make sure you end up with a perfect fit upon completion. Each custom screen door is hand crafted, hand painted, and personally assembled for your opening. We take the time to go over the features of your door to ensure maximum performance. Our custom PCA screen doors will give you, your family and pets that added security you were looking for while maintaining style and functionality.
FAQs and Considerations
Won't my standard patio screen door protect my family? No, using a standard patio screen door will not help you achieve your goals of functionality or security. Custom PCA screen doors' dead-bolt security handle set, WILL keep your entry safe and deter any unwanted visitors.
If I screen this in now, can I still get furniture in? Yes, be sure to order your screen door wider. This will allow you to easily move furniture or appliances in and out without removing the screen door. 
All screen doors eventually fail. You can keep your door from slamming shut or dragging on the ground by upgrading your components.
Entrance Area Doors
Contact us or call 239-482-7502 today for your FREE estimate!
Serving Southwest Florida: Fort Myers, Cape Coral, Bonita Springs, Estero, Sanibel, Pine Island, Lee, and Collier County.
"The bitterness of poor quality remains long after the sweetness of a cheap price."