Roll Shutters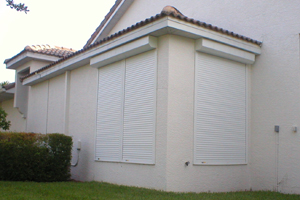 Roll Shutters: Dropping vertically across the window from above
These shutters are rolled into position from inside or outside. Operation can be manual or electric with options to automate based on the weather. They also help control light and sound and some can be made from clear materials to allow excellent light entry even when closed. Roll shutters have the added bonus of being invisible when not in use. They can constructed to retract from sight into an aluminum roll-form coil housing.
Contact us or call 239-482-7502 today for your FREE estimate!
Serving Southwest Florida: Fort Myers, Cape Coral, Bonita Springs, Estero, Sanibel, Pine Island, Lee, and Collier County.
"The bitterness of poor quality remains long after the sweetness of a cheap price."