Bahama Shutters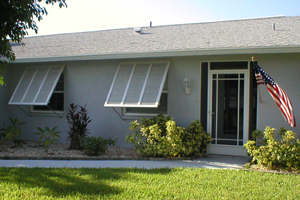 Bahama Shutters: Hinged at the top, these shutters are made from aluminum and come in many colors
They open and close from the outside, making them easily operated with telescopic adjustable or fixed arms. These attractive shutters provide shade for windows during the hot daylight hours and privacy any time of day or night.
Contact us or call 239-482-7502 today for your FREE estimate!
"The bitterness of poor quality remains long after the sweetness of a cheap price."
Serving Southwest Florida:
Fort Myers, Cape Coral, Bonita Springs, Sanibel Island and surrounding areas, Lee County, and Collier County.