Garage Screen Sliders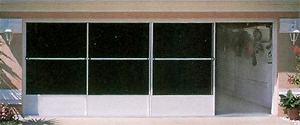 Screen Sliders: operating similar to sliding glass doors, these are available in two, three or four vent configurations, that slide horizontally across an opening to close it off
A less expensive alternative to electric rolls. The manually operated slider comes with white or black framing and a wide variety of screen meshes to choose from (see Custom Window Systems and Window Craftsmen).
Contact us or call 239-482-7502 today for your FREE estimate!
Serving Southwest Florida: Fort Myers, Cape Coral, Bonita Springs, Estero, Sanibel, Pine Island, Lee, and Collier County.
"The bitterness of poor quality remains long after the sweetness of a cheap price."