Riser Pan Roofs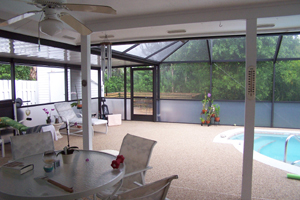 Riser Pan Roofs: cover patio and carport areas
They are made from white or bronze roll-form aluminum with roll-form gutters and valence. These roofs are typically less expensive and weaker than insulated roofs. However, they also have a tendency to collect debris (leaves or needles) in the grooved surface of the roof and thus require routine maintenance for proper water drainage. An additional upgrade places foam inserts in the grooves and covers the inserts with a protective panel that makes the roof quieter in the rain.
CAUTION: this structure will not support the weight of a person!
Contact us or call 239-482-7502 today for your FREE estimate!
Serving Southwest Florida: Fort Myers, Cape Coral, Bonita Springs, Estero, Sanibel, Pine Island, Lee, and Collier County.
"The bitterness of poor quality remains long after the sweetness of a cheap price."