Hand Railings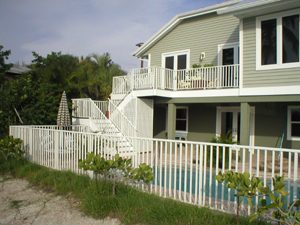 Hand Railings: fence like barriers that provide safety and security around steps, balconies, pools, and/or perimeters
These can be used in place of pool enclosures or be integrated within the walls of the enclosure. Florida Law requires at least a 42" high rail and at most a 4" opening in railings. Products include:
Contact us or call 239-482-7502 today for your FREE estimate!
"The bitterness of poor quality remains long after the sweetness of a cheap price."
Serving Southwest Florida:
Fort Myers, Cape Coral, Bonita Springs, Sanibel Island and surrounding areas, Lee County, and Collier County.