10 Things You NEED to Know About Screen Repair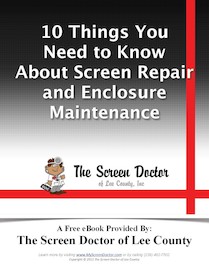 When it's time to patch your screen or replace it's spline, our eBook is the perfect resource for you. Learn about the proper equipment needed for working safely, the advantage of installing screen panels, what pressure washing does to your screens, and so much more.
Download your FREE eBook now. It's a resource you won't want to be without. To download your copy, please subscribe to our newsletter below.
Contact us or call 239-482-7502 today for your FREE estimate!
"The bitterness of poor quality remains long after the sweetness of a cheap price."
Serving Southwest Florida:
Fort Myers, Cape Coral, Bonita Springs, Sanibel Island and surrounding areas, Lee County, and Collier County.